Pictures/previews for this page have been removed due to Designers retiring and stores closing
There is just no denying it : The Stellar's Jay is a beautiful bird; the Stellar's Jay is a bully!
Arriving at the feeder with a raucous screeching announcement, they promptly chase away every other bird and proceed stuffing their cheeks with seeds. And they are not choosey either. Any seeds will do. Bad mannered too huh?
But oh so pretty, when the sun catches those blue feathers, the bird looks like a gem, a costly Lapis Lazuli stone. And as a besides-the-point : The Stellar's Jay is the provincial bird of British Columbia. Not a bad distinction for a 'bully' is it?
Kidding aside, some days we do feel like chasing them a milion miles away, yet the other day when a hawk cornered one on the deck, hubby lost no time in coming to it's rescue...isn't it a quirk in the English language that a heart can be both big and small, at the same time, and mean very much the same thing in the end? Gotta love English....
I made another LO for our "Critters At Our House" album : this time featuring our favourite bullies! LOL for my LO I chose
Gypsy Couture's
Carefree Days Kit
The template (which I turned, moved and in general rearranged) for my LO I got from Denise's
The Rich Scrapper
blog...you can find this great freebie
HERE
And finally for today, I have a little freebie Quick Page gift for you. Made with Gyspy Couture's
Kiss of Spring
Kit. I hope you find it useful. If you do use it, leave me a link in the comments and I'll drop by at your gallery!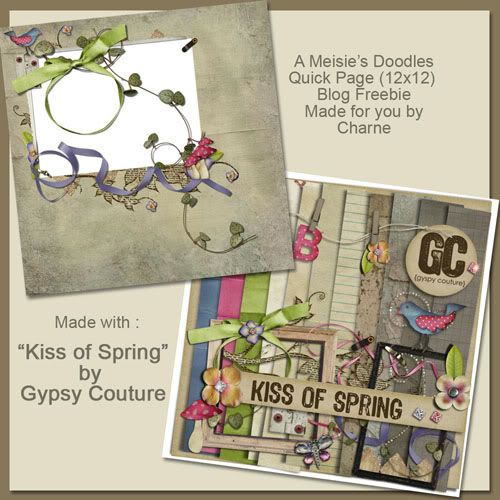 Freebie no longer available...
Thanks for dropping by!