Pictures/previews for this page have been removed due to Designers retiring and stores closing
Poor Tim had a rough start with his teeth. The new ones were already going strong while the old ones were still clinging on for 'dear life' Very frustrating! We eventually had to take him to the dentist to remove that first one! Unfortunately that kept on happening and in the end his teeth were really very uneven.
Enter the orthodontist and horrid braces : but the results are worth all the discomfort! At least I think so, but of course it wasn't my mouth, teeth and braces!
This picture was taken after we returned home from the dentist in 2000, getting that first one removed :
and here he is, December 2008 after the braces came off...what a relief!
I used Cathy Krenek's "Laugh" page set for the 'No More Braces' LO.
Click here
for full credits.
The first LO celebrating the first lost tooth, was made using a little kit I put together for the purpose, and then expanded a little (like adding a bow and buttons etc) for use with girl pictures.
It does not pretend or claim to be wonderful and wow you, but if you think you may find it useful, then please download it and enjoy!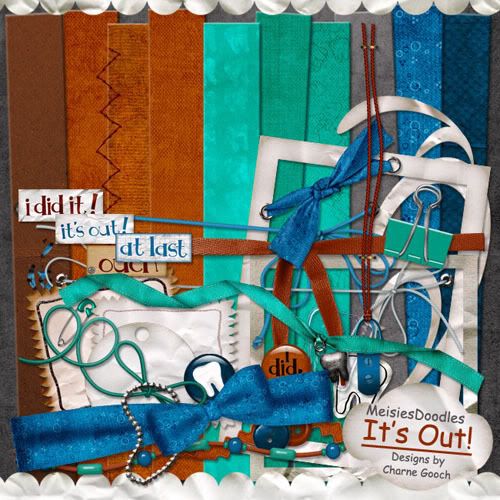 Download the
Papers HERE
Download the
Elements HERE
I'll be back tomorrow with a new LO for you, using Gypsy Couture's new kit.