One of my favourite things to do, is to watch the wild life around the house...nothing huge, impressive or spectacular maybe, but so beautiful and so special.
In 2005 I kept a sketchbook...sadly not yet finalized, of the ever changing scenery outside the door. Scenery that changes close-up, in the little details, not the vast vistas, but the single bloom, the single critter.
This is what the pages look like. Most of the birds are drawn from books or pictures. the plant life was drawn either outside or from samples I brought it. I used an ordinary sketchbook and water colour pencils. The paper objected to my use of straight water colour! Ink pen (micron) was used for details. Any subject was fair game, provided it was actually on the property.


A couple of years ago I decided to start a series of digital LO's, featuring those same plants and animals that are a part of the daily and seasonal fabric of my life, with the long term goal of having them printed up in a Shutterfly book. And here are some examples of what I'm doing. I know this will be be a great project and very much appreciated by the whole family once printed up!
Pictures/previews for this page have been removed due to Designers retiring and stores closing
See...Tim found this little fella in the log pile yesterday, and had to come show me first before finding him another safe home...now how could I resist including such a cute little face in our book? That would be unthinkable!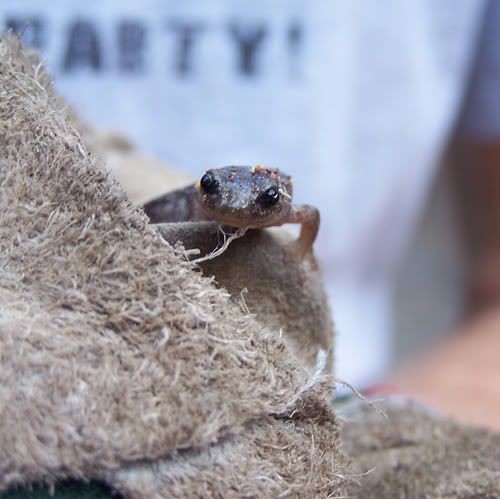 Have
you
ever thought of capturing your beautiful world on film and in a series of LO's? Go ahead, give it a try...you'll love it. Guaranteed!
Till next time....Happy Scrapping!